El 7 de diciembre se celebrará la gala The Game Awards donde se conocerán los premios a Mejor Juego del Año además de todos los galardonados en las diferentes categorías. El evento, que sirve para que muchas compañías presenten algunas de sus novedades, dará entrega así de una gran cantidad de premios, contabilizando los votos entre todos los que reciban en su página web.
En la categoría para obtener el GOTY se espera una dura batalla que enfrentará a Zelda: Breath of the Wild, Super Mario Odyssey, PlayerUnknown's Battlegrounds, Persona 5 y Horizon Zero Dawn. Quizás los juegos de Nintendo parten con ligera ventaja, pero el éxito de PUGB o el carisma de Persona 5 o la presencia de Aloy en el juego de Guerrilla Games, pueden dar la sorpresa.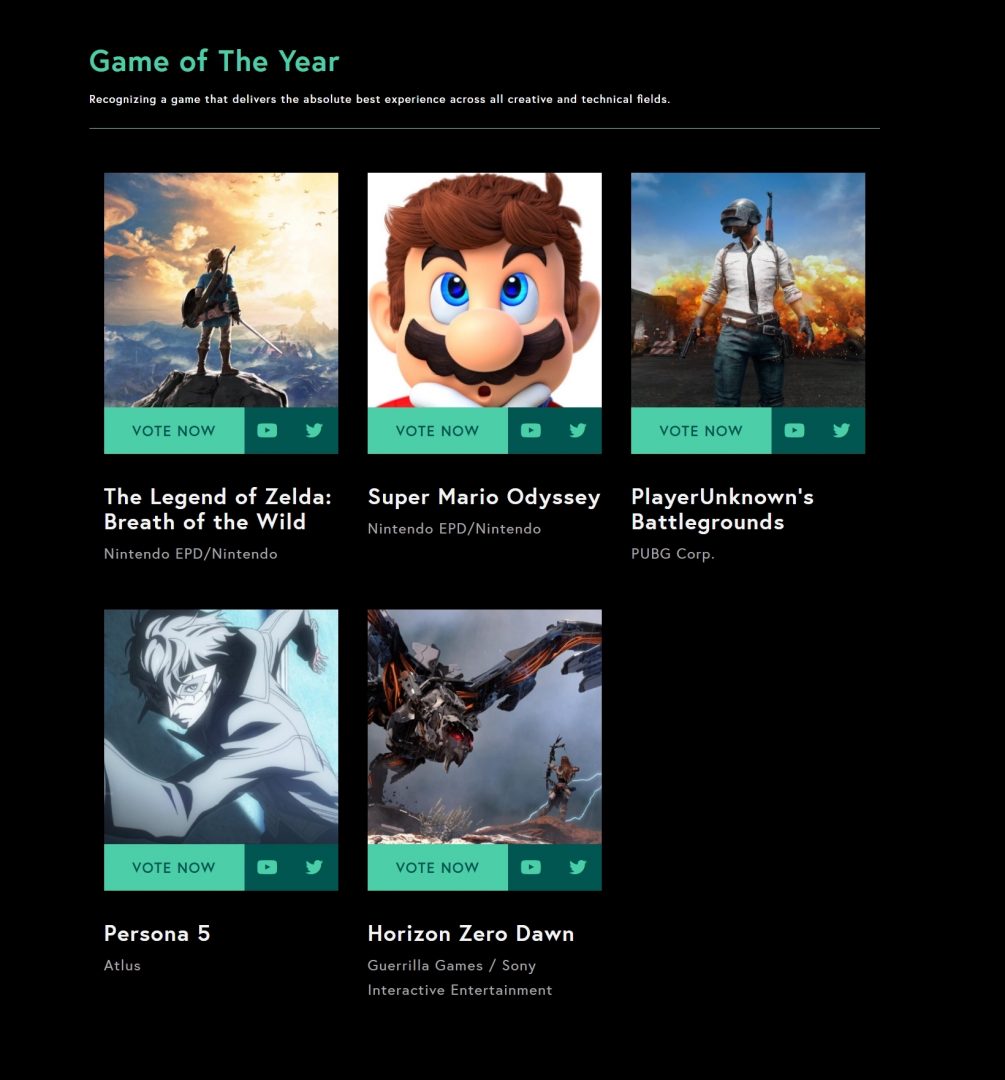 En el resto de categorías se repiten multitud de nombres como Destiny 2, Hellblade o Cuphead, demostrando la calidad de los mismos y la gran variedad de juegos que se han disfrutado a lo largo de este año.
Os recordamos que podéis votar por vuestros favoritos a través del siguiente enlace.
JUEGO DEL AÑO
The Legend of Zelda: Breath of the Wild (Nintendo)
Super Mario Odyssey (Nintendo)
PLAYERUNKNOWN'S BATTLEGROUNDS (PUBG Corp)
Persona 5 (ATLUS)
Horizon Zero Dawn (Guerrilla Games/ SIE)
MEJOR DIRECCIÓN DE JUEGO
The Legend of Zelda: Breath of the Wild (Nintendo)
Super Mario Odyssey (Nintendo)
Wolfenstein II: The New Colossus (MachineGames/Bethesda)
Resident Evil 7: Biohazard (Capcom)
Horizon Zero Dawn (Guerrilla Games/ SIE)
MEJOR NARRATIVA
What Remains of Edith Finch [Giant Sparrow / Annapurna Interactive)
NieR: Automata (Platinum Games / Square Enix)
Hellblade: Senua's Sacrifice (Ninja Theory)
Wolfenstein II: The New Colossus (MachineGames/Bethesda)
Horizon Zero Dawn (Guerrilla Games/ SIE)
MEJOR DIRECCIÓN DE ARTE
The Legend of Zelda: Breath of the Wild (Nintendo)
Destiny 2 (Bungie/Activision)
Cuphead (Studio MDHR)
Persona 5 (ATLUS)
Horizon Zero Dawn (Guerrilla Games/ SIE)
MEJOR BANDA SONORA
Destiny 2 (Bungie/Activision)
Cuphead (Studio MDHR)
NieR: Automata (Platinum Games/ Square Enix)
The Legend of Zelda: Breath of the Wild (Nintendo)
Super Mario Odyssey (Nintendo)
Persona 5 (ATLUS)
MEJOR DISEÑO DE AUDIO
Destiny 2 (Bungie/Activision)
Hellblade: Senua's Sacrifice (Ninja Theory)
The Legend of Zelda: Breath of the Wild (Nintendo)
Super Mario Odyssey(Nintendo)
MEJOR ACTUACIÓN
Melina Juergens como Senua en Hellblade
Laura Bailey como Nadine Ross en Uncharted: The Lost Legacy
Claudia Black como Chloe Frazer en Uncharted: The Lost Legacy
Brian Bloom como BJ Blazkowicz en Wolfenstein II: The New Colossus
Ashly Burch como Aloy en Horizon: Zero Dawn
JUEGOS DE IMPACTO
Please Knock on My Door (Levall Games)
Night in the Woods (Infinite Fall)
Life is Strange: Before the Storm (Deck Nine/Square Enix)
Bury Me, My Love (The Pixel Hunt/Figs, ARTE)
What Remains of Edith Finch (Giant Sparrow /Annapurn Interactive)
Hellblade: Senua's Sacrifice (Ninja Theory)
MEJOR JUEGO COMO SERVICIO
Warframe (Digital Extremes)
Rainbow Six: Siege (Ubisoft Montreal/Ubisoft)
Overwatch (Blizzard)
Grand Theft Auto Online (Rockstar Games)
Destiny 2 (Bungie/Activision)
PUBG (PUBG Corp.)
MEJOR JUEGO PARA MÓVILES
Super Mario Run (Nintendo)
Old Man's Journey (Broken Rules)
Monument Valley 2 (ustwo games)
Hidden Folks (Adriaan de Jongh/ Sylvain Tegroeg)
Fire Emblem Heroes (Intelligent Systems/Nintendo)
MEJOR JUEGO PORTÁTIL
Poochy and Yoshi's Woolly World (Nintendo)
Monster Hunter Stories (Marvelous/Nintendo)
Metroid: Samus Returns (MercurySteam/Nintendo)
Fire Emblem Echoes: Shadows of Valentia (Intelligent Systems/Nintendo)
Ever Oasis (Grezzo/Nintendo)
MEJOR JUEGO VR/AR
Superhot VR (SUPERHOT Team)
Star Trek: Bridge Crew (Red Storm Entertainment/Ubisoft)
Lone Echo / Echo Arrena (Ready at Dawn/ Oculus Studios)
Farpoint (Impuse Gear / SIE)
Resident Evil 7: Biohazard (Capcom)
MEJOR JUEGO DE ACCIÓN
Prey (Arkane/Bethesda)
Nioh (Team Ninja/SIE)
Destiny 2 (Bungie/Activision)
Cuphead (Studio MDHR)
Wolfenstein II: The New Colossus (MachineGames/Bethesda
MEJOR JUEGO DE ACCIÓN/AVENTURA
Uncharted: The Lost Legacy (Naughty Dog /SIE)
Assassin's Creed: Origins (Ubisoft)
The Legend of Zelda: Breath of the Wild (Nintendo)
Super Mario Odyssey (Nintendo)
Horizon: Zero Dawn (Guerrilla Games/SIE)
MEJOR RPG
South Park: Retaguardia en Peligro (Ubisoft San Francisco/Ubisoft)
Final Fantasy XV (Square Enix)
Divinity: Original Sin 2 (Lerian Studios)
NieR: Automata (Platinum Games/Square Enix)
Persona 5 (ATLUS)
MEJOR JUEGO DE PELEAS
TEKKEN 7 (Bandai Namco)
Nidhogg 2 (Messhof Games)
Marvel vs. Capcom: Infinite (Capcom)
Injustice 2 (NetherRealm/Warner Bros. Interactive)
ARMS (Nintendo)
MEJOR JUEGO FAMILIAR
Splatoon 2 (Nintendo)
Sonic Mania (SEGA)
Mario + Rabbids: Kingdom Battle (Ubisoft Milan/ Ubisoft)
Mario Kart 8 Deluxe (Nintendo)
Super Mario Odyssey (Nintendo)
MEJOR JUEGO DE ESTRATEGIA
XCOM 2: War of the Chosen (Firaxis Games/2K)
Tooth and Tail (Pocketwatch Games)
Total War: Warhammer II (Creative Assembly/SEGA)
Halo Wars 2 (Creative Assembly + 343 industries/Microsoft)
Mario + Rabbids: Kingdom Battle (Ubisoft Milan/Ubisoft)
MEJOR JUEGO DE DEPORTES/CARRERAS
Project CARS 2 (Slightly Mad Studios /Bandai Namco)
Pro Evolution Soccer 2018 (PES Productions/Konami)
NBA 2K18 (Visual Concepts/2K Sports)
Gran Turismo Sport (Polypphony Digital/SIE)
Forza Motorsport 7 (Turn 10 Studios /Microsoft)
FIFA 18 (EA)
MEJOR MULTIJUGADOR
Fortnite (Epic Games)
Call of Duty: WWII (Sledgehamer Games/Activision)
Splatoon 2 (Nintendo)
Mario Kart 8 Deluxe (Nintendo)
Destiny 2 (Bungie/Activision)
PUBG (PUBG Corp.)
JUEGO MÁS ESPERADO
The Last of Us: Part II (Naughty Dog/SIE)
Red Dead Redemption 2 (Rockstar)
Monster Hunter World (Capcom)
Marvel's Spider-Man (Insomniac/SIE)
God of War (Santa Monica/SIE)
MEJOR JUEGO INDEPENDIENTE
Pyre (Supergiant Games)
Night in the Woods (Infinite Fall)
Cuphead (Studio MDHR)
What Remains of Edith Finch (Giant Sparrow /Annapurn Interactive)
Hellblade: Senua's Sacrifice (Ninja Theory)
MEJOR JUEGO DE ESPORT
Rocket League (Psyonix)
League of Legends (Riot Games)
DOTA 2 (Valve)
Counter-Strike: Global Offensive (Valve)
Overwatch (Blizzard)
MEJOR JUEGO INDEPENDIENTE DEBUT
Slime Rancher (Monomi Park)
MrShifty (Team Shifty)
Hollow Knight (Team Cherry)
Golf Story (Sidebar Games)
Cuphead (Studio MDHR)
MEJOR JUEGO HECHO POR ESTUDIANTES
Meaning
Level Squared
Impulsion
Falling Sky
Hollowed
From Light
PREMIO TRENDING GAMER
Steven Spohn ― AbleGamers
Mike Grzesiek ― Shroud
Guy Beahm ― Dr. Disrepect
Clint Lexa ― Halfcoordinated
Andrea Rene ― What's Good Games
MEJOR JUGADOR DE ESPORTS
Kuro "Kuroky" Salehi Takhasomi
Je-hong "ryujehong" Ryu
Nikola "NiKo" Kovac
Marcelo "coldzera" David
Lee sang-hyeok "Faker"
MEJOR EQUIPO DE ESPORTS
Team Liquid
SK Telecom 1
FaZe Clan
Cloud9
---